Reactions.....
Dear Hotel Savoy team, once again we had the great pleasure of being your guests at Jazz & Dining. My compliments to everyone involved! It was a "festival for the senses". The delicious food, the, the brilliant band and its fantastic music, the attentive and friendly service, the stylish ambience…it was a delight to be so spoiled.
Yvonne und Toni Portmann - Schweiz
"They absolutely positively surprised us, again and again, with their tasteful background music. We and especially our guests were impressed with the different Living Jazz formations. Our expectations were regularly beat!"
Dr. Helga Bender - Verband Deutscher Pfandbriefbanken
"Living Jazz made every event of ours a bigger party. The music is fascinating, and every time exciting with the varying Jazz musicians that perform. Living Jazz leaves no one out, and with every performance wins new fans from their uplifting music."
Johannes Näumann - Verband der Technischen Überwachungs-Vereine e.V.
"The cooperation with Living Jazz, especially with Mr. Bier, was very pleasant and professional. The music was more than just a part of our event, and deceptively made a big difference in the comfortable atmosphere."
Alexandra Lenk, UBS AG, Zürich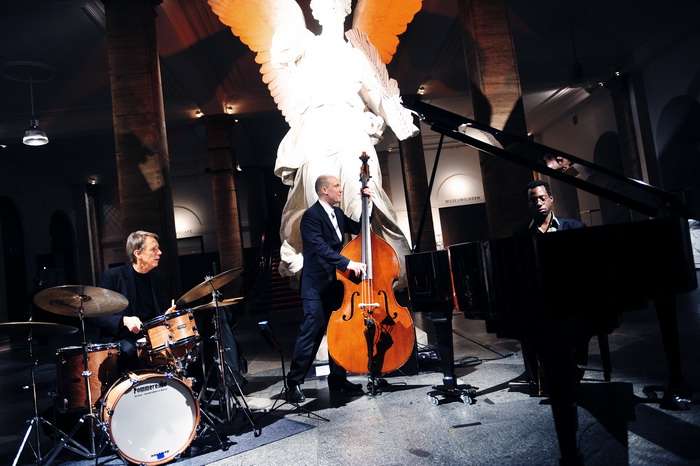 For a special group of music lovers, jazz is a continuing musical pleasure. Living jazz makes the heart beat faster. Many thanks to Ernst Bier and his colleagues.
Prof. Dr. Ulrike Detmers - Mestemacher GmbH
I have engaged Ernst Bier and his ensemble twice for major events put on by our firm, and have been more than pleased by the results. The organizational handling and the involvement in taking care of our special wishes was performed in a highly professional manner; every one of our event's 220 participants were totally enthralled by his saxophonist, as well as by the entire ensemble. A heartfelt thanks for the fantastic musical backdrop and terrific atmosphere that he and his musicians created. I would be delighted to have the group back for another engagement!

Claudia Steger-Richter - Bayer CropScience AG Monheim/Rheinland


Engagements.....
played by the musicians of Living Jazz, in the most varied combinations, adding their personal flair to events of many highly respected corporations.
2020
17.01.2020 Biotronic EMB Diner - Radisson Blu, Berlin
2019
28.11.2019 Verband Deutscher Pfandbriefbanken - Deutsches Historisches Museum, Berlin
16.11.2019 Reception - Rote Halle, Berlin
13.04.2019 Reception - Savoy Hotel, Berlin
18.01.2019 Biotronic EMB Diner - Radisson Blu, Berlin
2018
05.12.2018 Ronald S. Lauder Foundation - Berlin
28.11.2018 Verband Deutscher Pfandbriefbanken - Axica, Berlin
17.11.2018 Biotronic Global Meeting - Wasserwerk Wilmersdorf, Berlin
27.09.2018 Verband Deutscher Pfandbriefbanken - Palmengarten, Frankfurt/Main
14.09.2018 Richtfest - BPD Immobilienentwicklung GmbH, Berlin
20.07.2018 Summer Party - 20.1797 Neon GmbH, Berlin
27.04.2018 Ges. für indo-asiatische Kunst Berlin e.V - Museum für Asiatische Kunst, Berlin
08.03.2018 Open House - Neue Wohnkultur, Berlin
16.02.2018 Biotronic EMB Diner - Radisson Blu, Berlin
2017
30.11.2017 Verband Deutscher Pfandbriefbanken - Axica, Berlin
26.09.2017 Verband Deutscher Pfandbriefbanken - Palmengarten, Frankfurt/Main
08.09.2017 Opening - Hotel Schloss Reichenow
20.06.2017 VdTÜV-Jahresempfang - Königliche Porzellan-Manufaktur
16.06.2017 Get Together - Westin Grand Hotel
27.01.2017 Biotronic EMB Diner - Radisson Blu, Berlin
2016
13.12.2016 Verband Deutscher Pfandbriefbanken - Axica, Berlin
28.10.2016 Natulis Group AG - Berlin
28.09.2016 Verband Deutscher Pfandbriefbanken - Palmengarten, Frankfurt/Main
17.06.2016 Biotronic - Great Minds 2015 - Restaurant Tauro, Berlin
02.06.2016 Opening Exibition Schnittmengen - Museum für Asiatische Kunst, Berlin
04.01 - 04.04.2016 every Monday - Jazz & Dining at Restaurant Weinrot - Savoy Hotel, Berlin
29.01.2016 Biotronic EMB Diner - Radisson Blu, Berlin
2015
05.01 - 28.12.2015 every Monday - Jazz & Dining at Restaurant Weinrot - Savoy Hotel, Berlin
08.12.2015 Ronald S. Lauder Foundation - Berlin
03.12.2015 Verband Deutscher Pfandbriefbanken - Axica, Berlin
25.11.2015 Musik-Sterne in der Wartelounge - Dörfer Kieferorthopädie, Berlin
30.09.2015 Verband Deutscher Pfandbriefbanken - Palmengarten, Frankfurt/Main
15.08.2015 Schultheis - Söhnel Manufaktur, Berlin
19.06.2015 Lions Club Berlin Savigny - American Academy, Berlin
12.06.2015 Biotronic - Great Minds 2015 - Restaurant Tauro, Berlin
09.06.2015 VdTÜV-Jahresempfang - Schloss Charlottenburg, Berlin
26.02.2015 IETF-Meeting by DENIC - Cafe Moskau, Berlin
2014
06.01 - 29.12.2014 every Monday - Jazz & Dining at Restaurant Weinrot - Savoy Hotel, Berlin
11.12.2014 After Work Jazzlounge - Joy Club im Casino, Baden CH
04.12.2014 Verband Deutscher Pfandbriefbanken - Axica, Berlin
02.12.2014 100 Jahre Bohumil Hrabal - Botschaft der Tschechischen Republik, Berlin
28.10.2014 Jazzpresso 75 Years Blue Note Records - Jüdisches Museum, Berlin
11.09.2014 Verband Deutscher Pfandbriefbanken - Palmengarten, Frankfurt/Main
25.07.2014 Weinsheimer Jubiläum - Fischerhütte, Berlin
27.06.2014 Wirtschaftsempfang der Stadt Eberswalde - Zoo, Eberswalde
20.05.2014 VdTÜV-Jahresempfang - Museum für Verkehr und Technik , Berlin
2013
28.11.2013 Verband Deutscher Pfandbriefbanken - Axica, Berlin
04.09.2013 Verband Deutscher Pfandbriefbanken - Palmengarten, Frankfurt/Main
30.07.2013 IETF-Meeting by DENIC - Museum für Verkehr und Technik , Berlin
12.06.2013 VdTÜV-Jahresempfang - Museum für Verkehr und Technik , Berlin
25.01.2013 EMB Diner - Humboldt Carree, Berlin
16.01.2013 BID Jahresempfang - Landesvertretung Niedersachsen, Berlin
2012
29.11.2012 Verband Deutscher Pfandbriefbanken - Axica, Berlin
27.11.2012 Natixis Investmentbank - Palmengarten, Frankfurt/Main
14.11.2012 GdW Verbandstag - Deutsches Historisches Museum, Berlin
27.09.2012 Verband Deutscher Pfandbriefbanken - Klassikstadt, Frankfurt/Main
11.09.2012 PVS Sommerfest - British Embassy, Berlin
05.08.2012 Brunch Strasburg - Gast Art Restaurations - borchardt CATERING
13.06.2012 Verband Deutscher Pfandbriefbanken - Schloss Charlottenburg, Berlin
08.05.2012 VdTÜV-Jahresempfang - Museum für Verkehr und Technik , Berlin
14.02.2012 Berlinale Empfang - British Embassy, Berlin
20.01.2012 EMB Diner - Puro Lounge, Berlin
18.01.2012 BSI-Jahresempfang - Bayerischen Landesvertretung, Berlin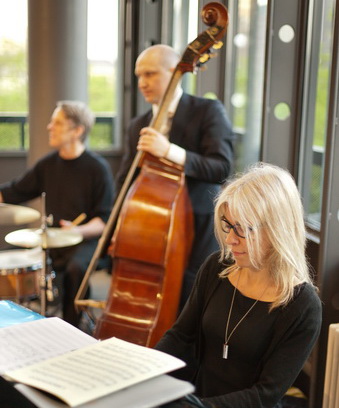 2011
01.12.2011 Verband Deutscher Pfandbriefbanken - Axica, Berlin
15.11.2011 Empfang der Lettischen Botschaft - Landesvertretung Baden-Würtenberg, Berlin
20.10.2011 Opening of "Brasserie Le Paris" - Institut Français, Berlin
29.09.2011 Verband Deutscher Pfandbriefbanken - Klassikstadt, Frankfurt/Main
19.09.2011 Humbold Universität - Windkanal Adlershof, Berlin
24.06.2011 Büro & Sommerfest - DynaBit, Berlin
06.06.2011 BIM-Sommerfest - Museum für Verkehr und Technik , Berlin
25.05.2011 Verband der Privatärztlichen Verrechnungsstellen e.V - British Embassy, Berlin
24.05.2011 VdTÜV-Jahresempfang - Museum für Verkehr und Technik , Berlin
18.05.2011 Verband Deutscher Pfandbriefbanken - Bärensaal im Alten Stadthaus, Berlin
11.03.2011 Meet Berlin - Meistersaal, Berlin
28.01.2011 EMB Diner - Altes Wasserwerk, Berlin
2010
31.12.2010 Silvesterfeier - Gutshaus Stolpe Relais & Chatéaux, Stolpe
02.12.2010 Verband Deutscher Pfandbriefbanken - Axica, Berlin
09.11.2010 Bayer CropScience - 40seconds, Berlin
30.09.2010 200 Jahre Humbold Universität - Windkanal Adlershof, Berlin
22.09.2010 Greenbrier Europe - Museum für Verkehr und Technik , Berlin
09.09.2010 Verband Deutscher Pfandbriefbanken - Klassikstadt, Frankfurt/Main
09.06.2010 Verband Deutscher Pfandbriefbanken - Bode Museum, Berlin
08.06.2010 VdTÜV-Jahresempfang - Museum für Verkehr und Technik , Berlin
05.02.2010 Biotronic EMB Diner - Bärensaal im Alten Stadthaus, Berlin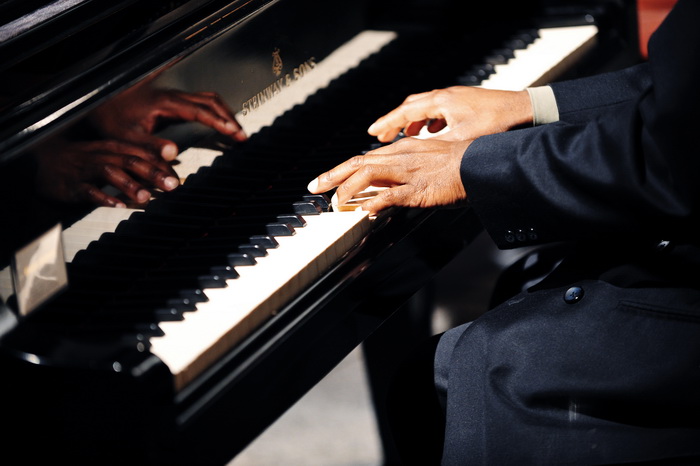 2009
26.11.2009 Verband Deutscher Pfandbriefbanken - Axica, Berlin
10.09.2009 Verband Deutscher Pfandbriefbanken - Museum Städl, Frankfurt/Main
18.06.2009 Bayer CropScience Award - Museum für Kommunikation, Berlin
06.06.2009 VW Spanien - Kaisersaal/Sonycentrum, Berlin
05.06.2009 VW Spanien - MS Schildhorn, Berlin
26.05.2009 VdTÜV-Jahresempfang - Museum für Verkehr und Technik , Berlin
30.03.2009 Fraunhofer IPK - Museum für Verkehr und Technik , Berlin
16.03.2009 4.Int. Jahresfachkonferenz EU - Universal Hall, Berlin
2008
31.12.2008 Silvesterfeier - Käfer im Reichstag, Berlin
05.12.2008 Aesculap AG - Käfer im Reichstag, Berlin
27.11.2008 Verband Deutscher Pfandbriefbanken - Axica, Berlin
21.10.2008 Deutsche Börse AG - Deutschen Börse Frankfurt/Main
11.09.2008 Verband Deutscher Pfandbriefbanken - Museum Städl, Frankfurt/Main
14.07.2008 Vitrum Kick off Event - Ritz Carlton, Berlin
03.06.2008 VdTÜV-Jahresempfang - Museum für Verkehr und Technik , Berlin
18.05.2008 Gamache Limited - Bärensaal im Alten Stadthaus
02.04.2008 DYNAbit Systemhaus GmbH - Museum für Verkehr und Technik , Berlin
17.03.2008 3.Int. Jahresfachkonferenz EU - Maritim, Berlin
06.03.2008 Aviareps AG - Käfer im Reichstag, Berlin
28.02.2008 Mestemacher Preis - Käfer im Reichstag, Berlin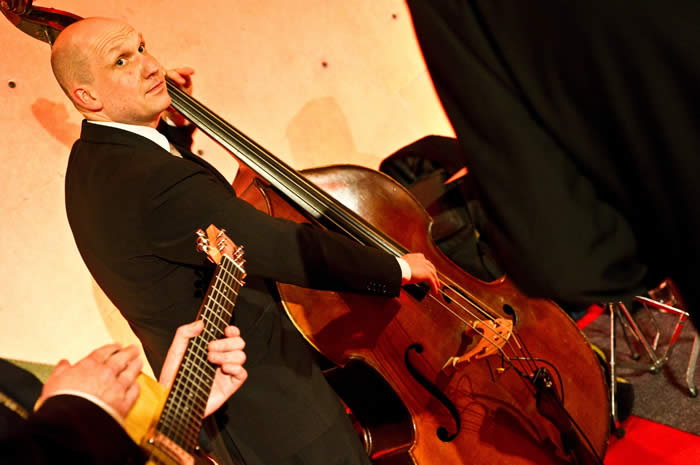 2007
31.12.2007 Silvesterfeier - Käfer im Reichstag, Berlin
13.12.2007 Verband Deutscher Pfandbriefbanken - Axica, Berlin
26.10.2007 Damerau-Rechtsanwälte - Berlin
22.09.2007 Unicef Benefiz - Ritz Carlton, Berlin
21.09.2007 Gründungskonvent - Hans Otto Theater, Potsdam
12.09.2007 Infosys Technologies - Käfer im Reichstag, Berlin
06.09.2007 Verband Deutscher Pfandbriefbanken - Museum Städl, Frankfurt/Main
13.06.2007 Verband Deutscher Pfandbriefbanken - Neue Nationalgalerie, Berlin
08.06.2007 International Group of Educational Publishers - Käfer im Reichstag, Berlin
08.05.2007 VdTÜV-Jahresempfang - Museum für Verkehr und Technik , Berlin
06.05.2007 Golfschlag - Berlin
29.03.2007 Preisverleihung 'BRANCHENTIGER' der FFA - Akademie der Künste Berlin
28.03.2007 Deekeling Arndt Advisors - Berlin
15.01.2007 Neujahrsempfang der SPD - Reichstag, Berlin
2006
31.12.2006 Silvesterfeier - Käfer im Reichstag, Berlin
14.12.2006 Verband Deutscher Pfandbriefbanken - Axica, Berlin
02.12.2006 Lufthansa VIP - Käfer im Reichstag, Berlin
21.10.2006 Alcatel - Museum für Kommunikation, Berlin
14.09.2006 Verband Deutscher Pfandbriefbanken - Museum Städl, Frankfurt/Main
11.09.2006 Berlin-Brandenburgische Akademie - Theater des Westens, Berlin
01.06.2006 VdTÜV-Jahresempfang - Museum für Verkehr und Technik , Berlin
13.05.2006 The Bonnier Group Schweden - Käfer im Reichstag, Berlin
04.05.2006 "Fit to Drive" Kongress - Landesvertretung Niedersachsen, Berlin

2005
14.12.2005 Toll Collect - Josty am Potsdamer Platz, Berlin
13.11.2005 ISAP - Miller and Meier Consulting - Käfer im Reichstag, Berlin
05.10.2005 MAXIM Grooming Award 2005 - Journalistenclub der Axel Springer AG, Berlin
29.09.2005 UBS AG Basel - Käfer im Reichstag, Berlin
22.09.2005 Verband Deutscher Pfandbriefbanken - Museum Städl, Frankfurt/Main
21.09.2005 SPD "Mit Sicherheit und Frieden" - Museum für Verkehr und Technik , Berlin
18.09.2005 Autopräsentation - Saabzentrum Spandau, Berlin
19.08.2005 Boehmert & Boehmert - Käfer im Reichstag, Berlin
30.06.2005 VdTÜV-Jahresempfang - Museum für Verkehr und Technik , Berlin
28.06.2005 Ultima Media London - Käfer im Reichstag, Berlin
30.05.2005 Verband Deutscher Pfandbriefbanken - Museum Hamburger Bahnhof, Berlin
19.05.2005 Wincor Nixdorf International - Museum für Kommunikation, Berlin
07.05.2005 Verband Deutscher Geigenbauer - Schloss Glienicke, Potsdam
2000 bis 2004
20.12.2004 Josty Gastronomie - Jazzclub A-Trane, Berlin
19.11.2004 T-Systems - Museum für Kommunikation, Berlin
27.10.2004 Metro Group - Altes Zollhaus, Berlin
21.10.2004 Stryker Dentalkongress - Josty am Potsdamer Platz, Berlin
09.09.2004 Verband Deutscher Pfandbriefbanken - Museum Städl, Frankfurt/Main
06.09.2004 Deutscher Gewerkschaftsbund - Museum für Kommunikation, Berlin
01.07.2004 VdTÜV-Jahresempfang - Museum für Verkehr und Technik , Berlin
17.06 2004 Förderverein Dermatologie der Charite - Museum für Kommunikation, Berlin
21.10.2003 Metro Group - Hotel Interconti, Berlin
26.06.2003 VdTÜV-Jahresempfang - Museum für Verkehr und Technik , Berlin
16.12.2002 Gast Art GmbH - Pfennighaus Berlin-Tempelhof
02.12.2002 Gesamt Textil e.V. - Kaisersaal/Sonycentrum, Berlin
13.06.2002 Verband privater Krankenversicherungen e.V. - Ballsaal Pankow, Berlin
10.06.2002 Pharma Concilio - MS Sanssoucci, Berlin
26.03.2002 Daimler Chrysler - Weinhaus Huth Potsdamer Platz, Berlin
16.10.2001 Airbus Deutschland - Landesvertretung Hamburg, Berlin
28.08.2001 Messe Berlin - ICC Berlin
27.08.2001 T-Mobil - Museum für Kommunikation, Berlin
07.07.2001 Computer Systems - Strandbad Caputh
20.06.2001 Deutsche Telekom - Museum für Kommunikation, Berlin
09.04.2001 PSD Bank Berlin-Brandenburg - Museum für Kommunikation, Berlin
25.11.2000 Gesamt Textil e.V. - Lapidarium, Berlin
12.11.2000 Preisverleihung Gothaer Karikade - ZDF-Hauptstadtstudio, Berlin
18.10.2000 Coca-Cola Company Board Meeting - Museum für Kommunikation, Berlin
28.09.2000 GFG networx - Stadtresidenz am Weinbergpark, Berlin
03.05.2000 Deutsche Telekom - Kulturforum Unter den Linden, Berlin