Living Jazz are a.o.......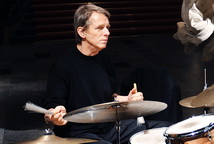 Ernst Bier studied with Billy Brooks, Charlie Persip, Vernell Fournier, and Elvin Jones. He lived and worked in New York City from 1982-1997.After returning from the USA until 1993 his home base was Cologne, then moving to the capitol city of Berlin where, among other activities, lead regular workshops. Ernst has worked with a Who's Who of jazz names. Playing with feeling, devotion, and a communicative style make him stand out as one of the most cherished and sought-after drummers.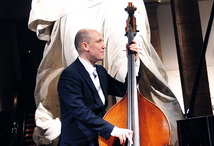 Stefan Weeke - the "virtuoso with the warm sound at the bass (Oxford Times)"- a traveler between jazz and worldmusic. With his own projects he did concert-tours in the name of the "German Goethe Institut" through Europ, Asia, Southamerica and Africa. Stefan Weeke worked as a musical director with german star-singer "Gitte Haenning" writing and playing her "in jazz" programm. Besides that, he is a known sideman for international jazz-giants as Herb Ellis, Bucky Pizzarelli, David Liebman,Carla Bley, Charlie Mariano, Joe Lovano, Till Brönner und Phillip Catherine.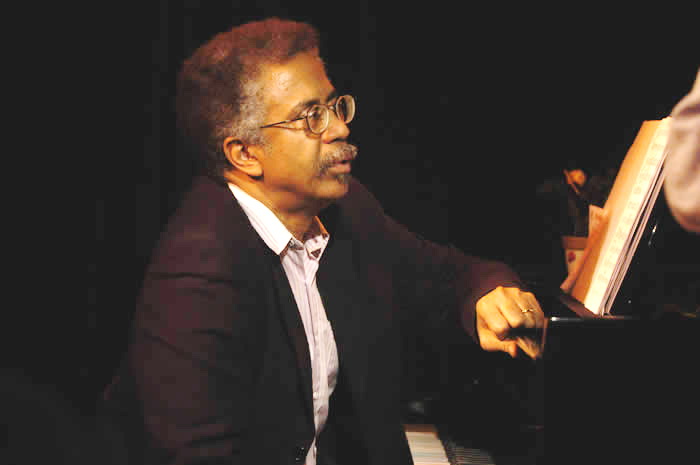 Reggie Moore is known as a world class pianist, composer, and arranger. His impressive career spans more than forty years, working with singers the likes of Johnny Hartman and Betty Carter and jazz legends Benny Golson, Kenny Burrell, and Gary Bartz. He has arranged for the Thad Jones and Mel Lewis Big Band in NYC and was the musical director for the Fats Waller swing musical "Ain't Misbehavin'". Since 1986 Reggie lives in Berlin, impressing a world-wide audience with his strong and emotional performances.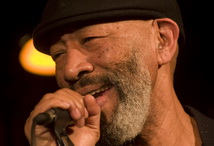 Dwight Thompson began singing professionally in The Canary Islands in Spain in 1974. He recorded and produced records in Germany, Netherlands, France and the United States while performing throughout Europe in a variety of arenas – Television, Nightclubs, Casinos, and Music Festivals. His warm, distinctive voice made him a regular at such establishments as the Carlton Hotel in Cannes and the Casino Ostende in Ostende, Belgium.
Dwight's jazz repertoire consists of jazz and blues standards from Nat "King" Cole, Jobim, Sinatra, Joe Williams, Johnny Hartman and others.
Karl Schloz is a multi-faceted guitarist who has appeared on a dozen major-label releases and is at home on the stage as well as the studio. Growing up in St. Louis, USA, living and working in New York City for eight years, and now living in Berlin in 1999, Karl has left his musical footprints in as many places as songs. Performing with Till Brönner, Hildegard Knef, Manfred Krug, Rosemary Clooney, Rolf Kühn, Bucky Pizzarelli, The Hessischer Radio Band, or playing on commercials for Meile, Nickolodean, or KiKa, Karl brings his "real orginal voice", grounded in the jazz tradition, but not stopping him from being a modern musician.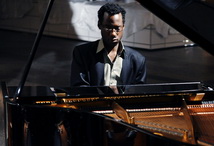 Kelvin Sholar, american pianist, bandleader, producer and composer is huge in his field; not only in his native country. He has been awarded over 10 musical prizes, and his recordings and performances reveal a masterful technician. ArtForum International placed Sholar high in the ranks of the Best Of Music as an "exceptional producer and keyboardist" . He worked with the New York City Ballet and Stevie Wonder and was involved in Yoko Onos Post-911 Antiwar-Musical "Give Peace A Chance".
Agita Rando studied church music at the Latvian Music Academy in Riga. A scholarship brought her to Bremen, Germany, in 2000, where she completed graduate studies in organ playing under the tuition of Hans-Ola Ericsson and Harald Vogel. Working as a musician in the areas of church music, classical music and jazz, Agita Rando next studied jazz-piano under Joe Dinkelbach, Ed Kröger, Detlev Beier and Georg Rox. Since 2008, Agita Rando has been working in Berlin as a pianist, composer and organist.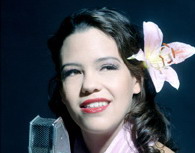 Iris Romen is a graduate of the Maastricht Conservatory, with Cum Laude honors in her study of Jazz Vocals and Classical Voice. This young and charismatic singer charms her audience with her unique and lustful voice that works its way under your skin. Her sensibility, experience, and humor always allow her to bring the perfect atmosphere. The press writes, "a magical voice…"
Mack Goldsbury, saxophonist, flutist, and composer, was born in Texas and studied at the renowned North Texas State Universtiy Music Department. He lived and worked for 20 years in New York City. Since 1992 he has lived in Berlin, where he quickly became a leading figure in advancing the local jazz scene. His incredibly strong and highly lyrical playing is on countless recordings and studio productions with world-renowned jazz and soul musicians, such as Nina Simone, Stevie Wonder, Red Garland, John Scofield, and Paul Motion.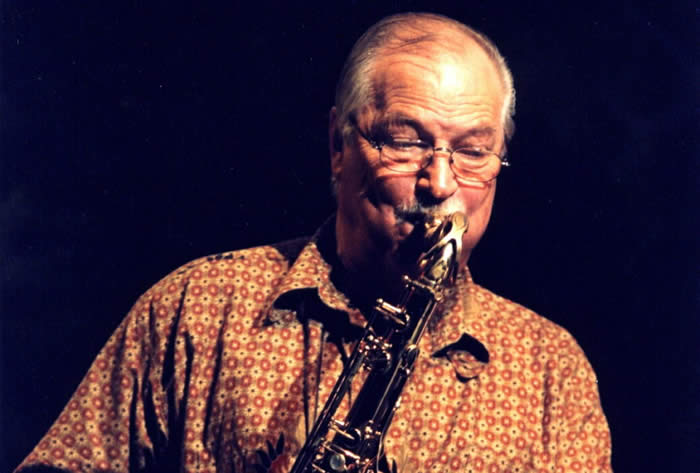 Rolf Römer collected his first musical experiences in American military clubs in Spain, Italy, North Africa, and France. From 1965 to 1969 he was busy in Paris studios and jazz clubs. Returning to Berlin, he was a member of the SFB Big Band working with Quincy Jones, Oliver Nelson, Nancy Wilson, Ray Brown, Henry Mancini, Toots Thielemanns, Ray Charles, Gil Evans, etc. From 1981 to 2004 Rolf was a member of the award-winning WDR Big Band in Cologne. There he worked with world-class musicians such as Phil Woods, Kenny Wheeler, Randy Brecker, James Moody, Freddy Hubbard, and Phil Collins, among countless others.